Shaista Fatima/ New Delhi

It was in 2016 when Atia told her future husband Frahim, "Look… I'm going to rent out a space in the Batla House market for women to offer namaz." Frahim supported the idea: "It's doable, but maybe not sustainable ", he answered.
Atia and Frahim got married in 2018 and the idea of ​​having a private public space for women only grew stronger over time.

The Sunday Longread


Today, the burqa-clad Atiya says, "Shopping is a daunting task for Muslim women as we tend to miss the call to prayer due to ever-changing times and the lack of mosques to pray in."
Interestingly, it was during the lockdown caused by Covid-19 that helped the couple make their dream come true. "Sheeru – a café for women only" was born.
Located in Delhi's predominantly Muslim neighborhood of Jamia Nagar's Batla House market center, this cafe is a beacon of hope for many women who are uncomfortable sitting and eating with and next to men.
Bushra, a housewife, says: "I came here for the first time and I love it here… I can offer my prayers, breastfeed my child and just sit and eat without a male gaze… It feels peaceful…."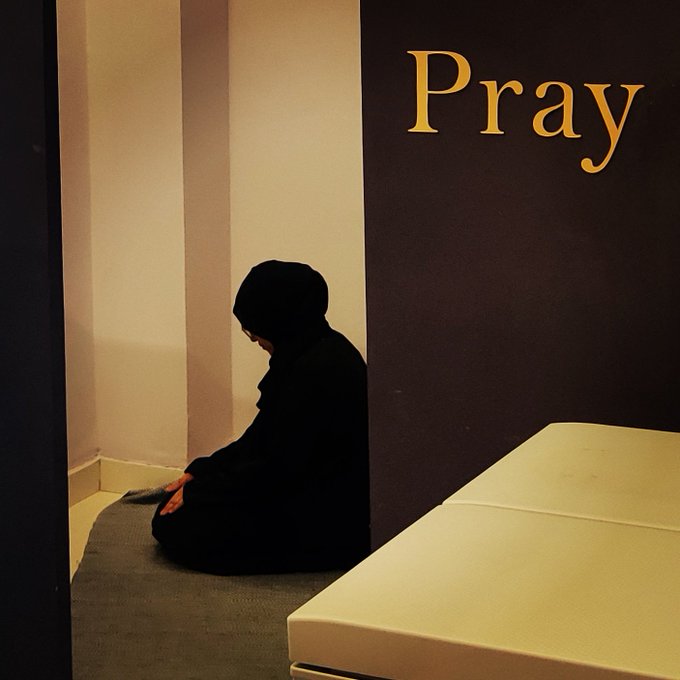 A woman praying at the Sheeru Cafe
Batla House is a mini Chandini chowk where alleyways and alleys are filled with women of all ages: "We opened our first outlet on July 9th and Alhamdulillah (thank god) the response has been pretty good… which amazes me, are the competitors who visit the shop," says Atia.

Atia says the cafe is generally filled with school and college girls by mid-afternoon, it's the housewives and older women who crowd the place in the evenings.
The menu at this women-only cafe is simple. Atia says, "Right now, pizza is mainly a dish that everyone loves, then comes burgers and coffee is the staple… we're trying to understand the taste buds of the masses…"
Atia's parents – her father is an orthopedist – moved to Saudi Arabia after she was born.
"I have been commuting between Delhi and Saudi since I was a child. According to my mother I have this inevitable love for Delhi and maybe that's why I'm the only one among my siblings who stayed here…"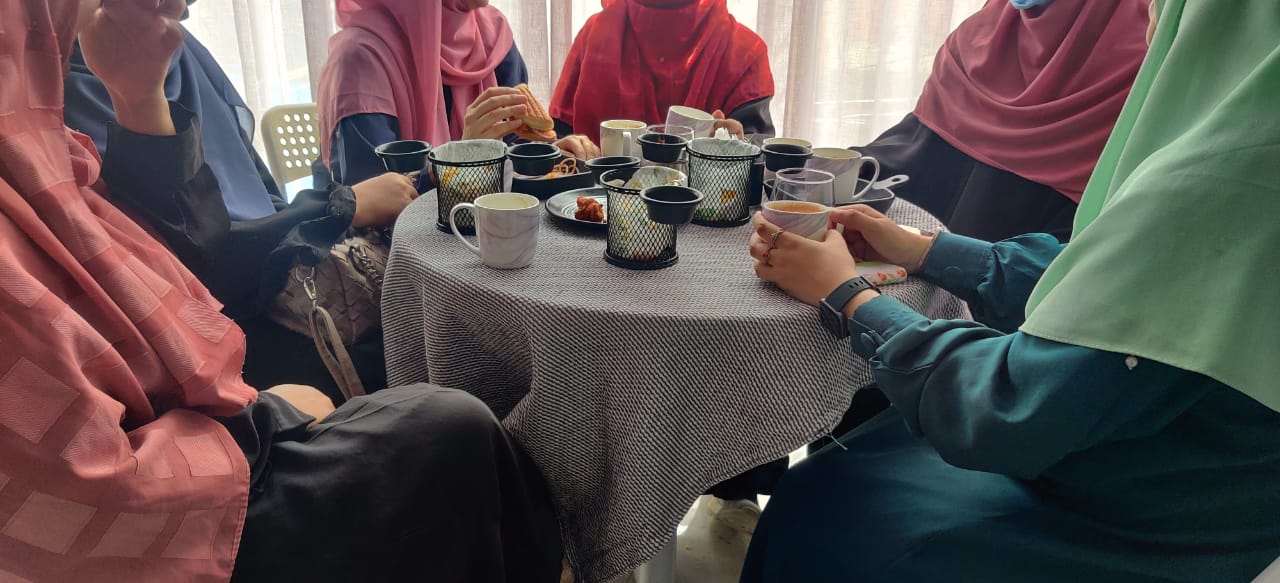 Party time for women at Sheeru Cafe
So, is Sheeru inspired by women-only cafes or mosques in Saudi Arabia? Atia says: "Well, somewhere, yes… but I strongly believe that the presence of women in every sector should be felt and recognized…"
In an attribution Whose fault is it that I missed my prayers? Muhammad Raziul Islam Nadvi has raised the question that women miss their prayers when they are shopping or out of the house.
Atia, 30, is a Bachelor of Architecture (B.Arch) from Jamia Millia Islami, born in 2016. She works as a designer at a company called Minimal Muslim, while her husband Fraheem, 32, manages the cafe. Atia also handles the design and social media platforms for Sheeru Cafe.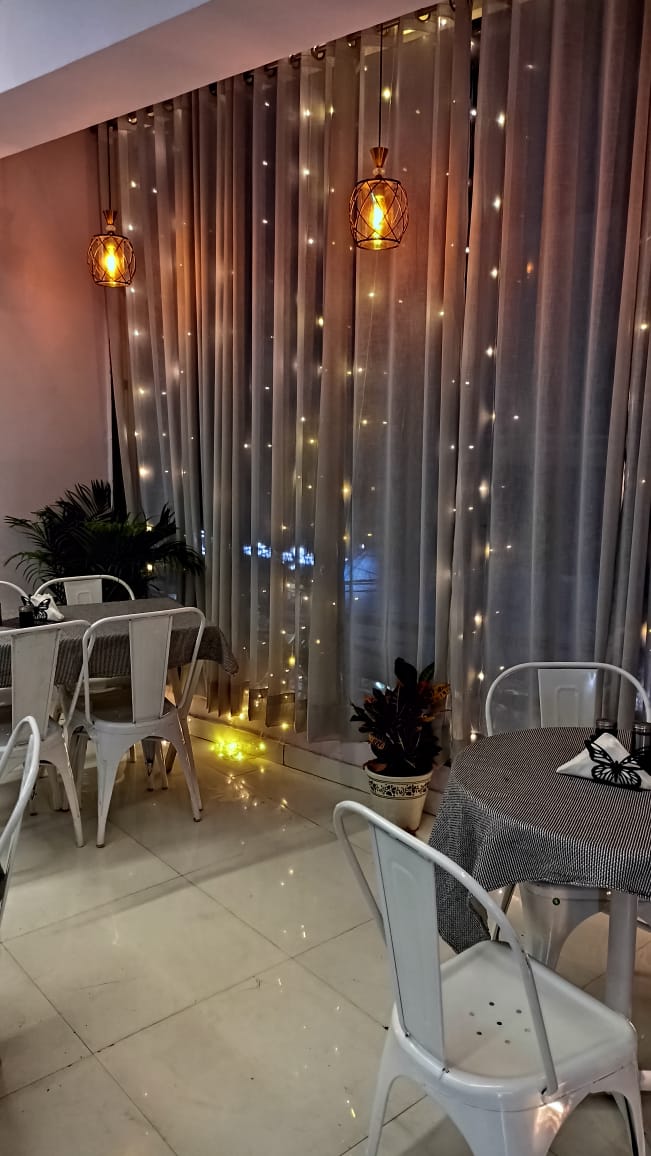 Beautiful interiors of Sheeru Cafe
"My architectural experience helped me a lot in building this space, from the decoration to printing the menu cards and brochures for promotions. Just me and my husband pushed the planning forward."
On Sheeru's opening day, she says, "It was a day before Bakr-Eid … and I figured I needed to land a customer or two, so I went out on the street and passed out fliers. We got about 9-10 customers that day, especially late at night around 10-11…I was amazed…it exceeded my expectations…"

A women-only café is a risky business idea and it must have taken a lot of courage to take this step. Atiya says: "Even in our house, the elderly have said that you cannot have a women-only shop, aurtein bahar khana nai khati hain (women rarely go out to eat), in fact, there is no place for us women in mosques either to sit, relax and offer our prayers."
Atia says it's not just about prayers. A woman goes through many problems, from cramps during her period to breastfeeding. She says, "I believe that today's times call for contemporary solutions… I want Sheeru to be a go-to place for all women, regardless of their age or religion…"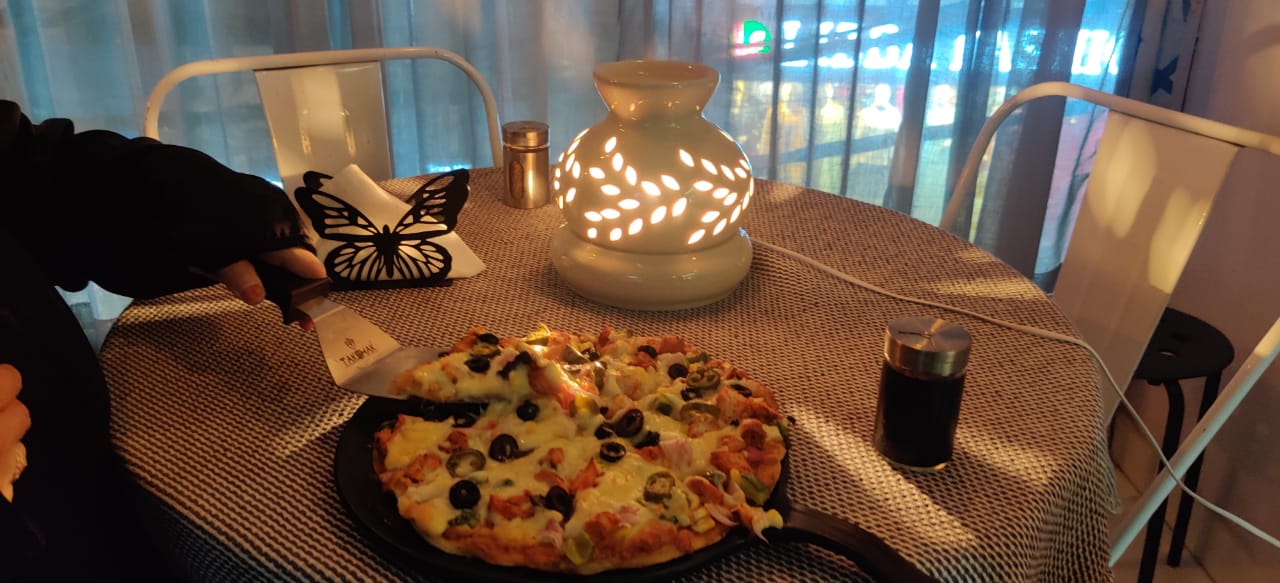 Customers enjoy a meal at the Sheeru Cafe
Now, after managing it for three months, Sheeru is seeing a steady influx of women, but it hasn't been an easy task: "We're not up to speed yet…while making our promotions, we faced a lot of problems, a lot Pitfalls, a placard, and banners that took hours to make and then placed in conspicuous places were ripped down by rickshaw pullers and incorporated into their covers, so we stuck to leaflets as our way of advertising…" Atia agreed Awaz-The Voice as she laughed out loud.

Today, social media addresses like Twitter and Instagram are a top choice for young entrepreneurs like Atia and Fraheem to promote their ventures, and Sheeru Cafe is no less: "Slowly and slowly we're getting a good customer base, we're getting a lot of referrals … almost every day I can see the post being shared, the insights on Instagram and Twitter are increasing by the day…"
Atia says there is a lot of enthusiasm among the youth: "The reactions Sheeru Cafe is getting range from a Naqabi woman (veiled woman) to those without a head covering. Religion is not an obstacle there either. I thought why shouldn't-Naqabi Women are interested…but they are…"
About the safety of women, she says: "During my bachelor's degree, my entire interest was in public space and I wanted to do my master's degree in urban design. Reading about Urban Studies I realized that there is no concept of spaces for women and children, which is so surprising and disappointing…"
Sheeru is currently managed by four employees, including Fraheem, Atia, Nahida, and Sania. In due course, Atiya and Farheem hope to set up Sheeru cafes elsewhere in the area and beyond in Lajpat Nagar and other marketplaces in Delhi, Lucknow, Aligarh and Hyderabad.

Poster of Sheeru Cafe
Sheeru is more than just a business for the couple. "It's more of a service than a business, our doors are open to women of different identities…they say when you're bored you have the biggest idea, so to all the artists out there, whenever they're in a creative phase come here and." work at a bonhomie cafe…"

Atia believes there are differences in how men and women deal with their fundamental rights, she says: "When it comes to women, moral scrutiny is often at its peak, but then fundamental issues are often neglected. Rules are being created today to accommodate the personal agenda of the social hierarchy and therefore justice is needed… I think Sheeru is an attempt on our part to make women feel like their presence matters…"
In a short time, Sheeru has bonded with his customers, Atia says: "Nahida told me that the other day a mother of a crying baby came into the coffee shop and breastfed her child with the promise of coming back one day… I have Nahida Told not to ask such women to order anything…Women who need to relax are more than welcome here…"

ALSO READ: Whose fault is it that I missed my prayers?
Atia says this cafe is more of a service: "I want Sheeru to become a hub for women for everything… I see this place as a place for women to show emotions and talk about their issues, I want them." Women so much area to come out and speak for themselves, from political to cultural to literary events, I want to hold them all… I am adamant that the change will only come about when there are local bodies, who support the cause, and I have a feeling that if you want to do this, you will end up doing it…"