MESSAGES | FEATURES | PREVIEW | EVENTS
By Bob Makin
originally published: 09/23/2022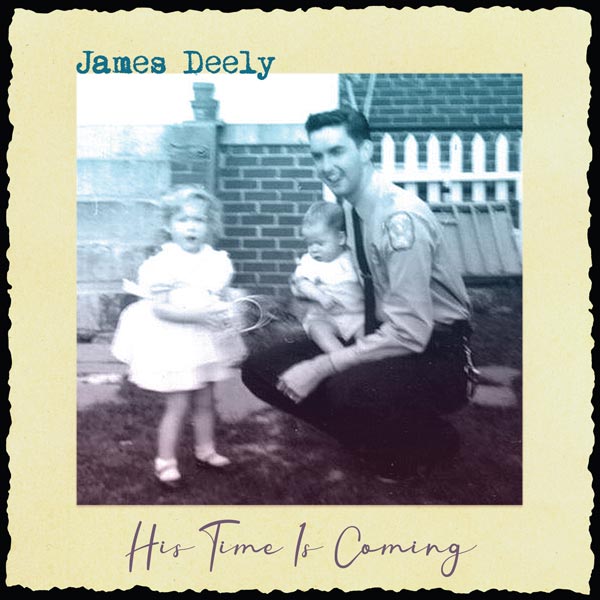 Jersey-raised singer-songwriter James Deely's latest single His Time Is Coming is a tribute to his late father and the Makin Waves Song of the Week. Deely is pictured in 1961 as a baby being held by his father along with his sister Ellie. PHOTO COURTESY OF THE DEELY FAMILY COLLECTION
Roots rock singer-songwriter James Deely, a long-time resident of Long Beach Island and now based in Los Angeles, will release his latest album, the 10-song This Train Is Running Out of Track, over the winter break.
The LP's fifth and final single, the Johnny Cash/Carter Family-esque "His Time Is Coming," is the Makin Waves Song of the Week.
Also featured as Makin Waves Song of the Week, "His Time Is Coming" can be heard on Radio Jersey on September 23 between 6pm and 8pm ThePenguinRocks.com. Also, if you miss it, you can always tune in to The Penguin's archive or MixCloud.
"It's basically a little story about men losing their fathers," JD said. "The famous LA Lakers coach, Phil Jackson, once said, 'A man is not a full man until he loses his father.'
Advertise with New Jersey Stage for $50-$100 per month. Click here to get more information
---
"We had a wonderful farewell for my father at Saint Francis Church in Brant Beach on Long Beach Island," he continued, "and as the service ended, I walked down the aisle, turned, and looked back at the altar. On the altar was my father and right behind me was my mother walking down the aisle with all her grandchildren clinging to her, draped over her and trying to comfort her. I couldn't get that image out of my head, so a while later I imagined a conversation between a widowed grandmother and her grandchild at the old boys' funeral, where the child asks innocent questions and the grandmother replies with comforting lies."
Produced by longtime friend Bruce Tunkel, who also plays piano during the forthcoming album, JD's backing band consists of The Hesh Inc. on Hammond B-3 organ, Chuck Manich on bass, James Michael Devaney, the original drummer in JD's band, the Valiants, Jersey Shore legend PK Lavengood on lead guitar and Judy Tint, Jonathan Byrd and John Waken on backing vocals. The latter two were part of the late Valiant bassist Paul Ford's later band The Pick Up Cowboys.
"One of the really cool things about all of this is that me and Bruce Tunkel still blast into the future and make music, you and Gary write about it, Lee plays the music, old buddies PK Lavengood and Heshy Inc. play on it, original Valiant drummer James Michael Devaney plays it, Bob Nicol does the artwork, just crazy!" said JD. "But let's continue here!"
Bruce Tunkel and Bob Nichol were together in one of the biggest Jersey bands of all time: SBK recording act The Red House, a staple of late '80s, early '90s alt-rock haven The Green Parrot, along with James Deely & the brave.
"A while back when we released the title track 'This Train Is Running Out of Track,' Lee opened the show with it," JD recalled. "The song ends and he comes and says, 'That was so good, I'm going to play it again', and I think I've never heard that before! It's just amazing to still be making music with the Lads, Bruce Tunkel, Lee and Gary and you the old devil. Truly a blessing! God bless old Ireland!"
For more information on JD, visit his Facebook page.
Bob Makin has been producing Makin Waves since 1988. Follow Makin Waves on Facebook and contact Bob at [email protected].