A Houston-based space exploration company tapped by NASA to ship cargo to the Moon plans to go public through a SPAC merger with a New York-based shell company.
Intuitive Machines LLC, founded in 2013, is seeking a merger with New York City-based Inflection Point Acquisition Corp. to, a special purpose entity (SPAC). Once the merger is complete, the combined company's stock (Intuitive Machines) will trade on the Nasdaq stock exchange under the ticker symbol LUNR.
The deal, which is expected to close in the first quarter of 2023, would value the combined company at $815 million.
Inflection Point Acquisition's IPO raised $300 million last year. A SPAC is a publicly traded shell company with no business operations whose sole purpose is to merge with or acquire another company.
Intuitive Machines is seeing dramatic revenue growth. The company forecasts annual revenues of $102 million in 2022, $291 million in 2023 and $759 million in 2024. The company has a backlog of $262 million in NASA contracts.
NASA announced in 2019 that Intuitive Machines is one of three companies awarded contracts to transport cargo to the lunar surface ahead of a planned mission to the moon. This mission, named Artemis, will not take place until at least 2026. Intuitive Machines also plans to deliver commercial payloads to the moon.
Intuitive Machines develops lunar landers and other space-related technologies and equipment.
"We are built on nearly 10 years of operating history, a solid treaty business foundation, a highly capital-efficient model and tax discipline. [which are] Brands we want to continue," said Erik Sallee, Chief Financial Officer of Intuitive Machines.
To fuel growth, the combined company has secured $55 million in capital commitments from affiliates of Inflection Point's sponsor and from a founder of Intuitive Machines, and a $50 million equity facility from CF Principal Investments LLC, a subsidiary of the financial services provider, secured Cantor Fitzgerald & Co.
In a further step to support growth, Intuitive Machines will move from its current facility at the Houston Spaceport to a new 125,000 square foot building on a 12.5 acre site at the Spaceport next year.
Kam Ghaffarian, co-founder and CEO of Intuitive Machines, says the company is looking to capitalize on an expanding space exploration market, with key players including SpaceX, Virgin Galactic, Blue Origin and Orbital Sciences.
Steve Altemus, co-founder, president and CEO of Intuitive Machines says his company hopes to become "a foundation of US space exploration."
"Each subsequent mission will allow us to increase our advantage by launching satellites into lunar orbit, bringing systems to the lunar surface, and gathering vital scientific and engineering data," says Altemus.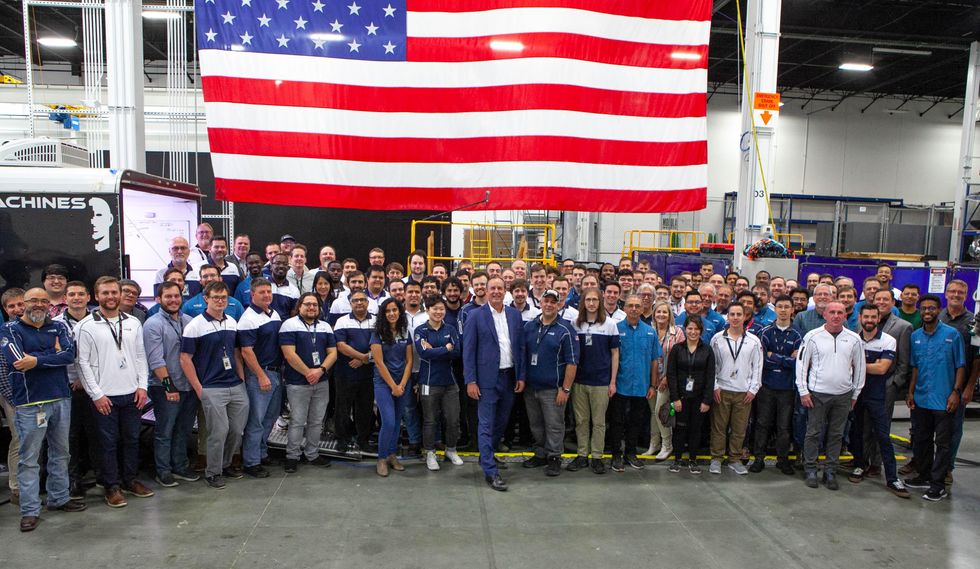 Intuitive Machines is located in the Houston area. Photo courtesy of Intuitive Machines