G. Bruce Jenkins, 90, of Indiana, passed away on Wednesday September 21, 2022 in Indiana, PA. He was born on March 13, 1932 in Bradenville, PA to the late Robert L. and Rachel M. (Hill) Jenkins. He was a remarkable man – full of generosity, a tireless work ethic, empathy, optimism and integrity. He was a role model for all of us and the world is a better place because of him.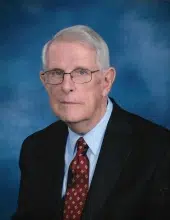 After graduating from Latrobe High School in 1950, Bruce attended St. Vincent College and the University of Pittsburgh Law School, where he received his Juris Doctor degree in 1957. In 1959 he moved to Indiana, after working for USF&G Insurance and teaching Political Science at the IUP, took a position with the Savings and Trust Bank, where he served for approximately 30 years as a trust officer and senior vice president. In this position, he helped many people in the community with their life transitions.
A man of great faith, Bruce was a longtime member of the Calvary Presbyterian Church, where he was deeply involved in the community in many ways, including choir, landscaping, fundraising, Sunday school and Boy Scout Troop 29. He valued his church family and was very proud of the recent renovation of the church's beautiful stained glass dome. Bruce grew up in Bradenville and attended the church across the street. As a teenager he worked there as a janitor, but spent much of his time playing the piano and memorizing hymns, which enabled him to amaze his family by reciting 90 hymn numbers and certain musical arrangements.
In 2018, Bruce was nominated for Indiana's Civic Leader of the Year Award. He was a member of the Indiana Kiwanis Club for 61 years and served two terms, 50 years apart, as that organization's president. He was also a volunteer and past treasurer of the Historical and Genealogical Society of Indiana County and a past president of the Indiana Shakespeare Club.
Bruce married his childhood sweetheart, the former Jean Caldwell, in 1953; Their marriage was filled with happiness and devotion. They traveled the world and sparked a passion for travel in their family. He and Jean honed their skills in both Indiana Square Dancing and Ballroom Dance Club. They also volunteered at Meals on Wheels for decades, and Bruce was still scrubbing the pots and pans this past summer.
In addition, Bruce was a huge sports fan and supported the Indiana Crimson Hawks in football and especially basketball. Pitt Panther Football; and every professional team in Pittsburgh, especially the Steelers. He loved his sons and their families getting together during the holidays and was an avid host of family sing-alongs; he thoroughly enjoyed his role as senior counselor at Camp Jenkins for grandchildren. He enjoyed delighting his family with stories about growing up in Bradenville during the Depression — reciting the many nicknames of neighborhood kids, playing duck on a tin, and eating coffee soup and sandwiches.
Bruce is survived by sons David B. (Suzanne Gesin) of Arlington, VA, Ronald P. (Tracy) of Galena, IL, and Eric W. (Julia Klein) of Reading, PA; five grandchildren: Adam, Benjamin (Meggie), Jeremy, Ethan and Mallory; two great-grandchildren: Elsie and Theodore; his sister Carol L. Jenkins of Williamsburg, VA; several nieces and nephews; and many friends.
In addition to his parents, Bruce died on October 29, 2009, along with his wife Jean and three brothers: Robert, Lynn and Lee Jenkins.
A service honoring Bruce's life will be held at a later date at Calvary Presbyterian Church, Indiana. In lieu of flowers, donations can be made to Calvary Church (calvarychurchpa.com), the Historical and Genealogical Society of Indiana County, or the Indiana Kiwanis Club.
To offer online condolences to the family, please visit www.bowswerminich.com
.